Previous Month | RSS/XML | Current
Name that Fallacy!
Earlier this month, a San Francisco television station reported:
The Embarcadero was virtually empty Saturday night amidst a light drizzle. It'll likely stay relatively quiet, since San Francisco has extended its stay-at-home and 10-day travel quarantine orders indefinitely. UCSF infectious disease expert and medical director of the HIV Clinic at Zuckerberg San Francisco General Hospital Director Dr. Monica Gandhi says the city's decision is not data-driven.

"We never reached those hospitalizations or ICU capacity concerns that the state had set as metrics for this degree of shutdown," she said. "And then to continue it indefinitely, as kind of our New Year's present to San Francisco, didn't make sense to me."

San Francisco is in better shape than most of the Bay Area and the state of California. Currently about 30% of ICU beds are still available. The latest 7-day average of new cases daily is 206 as of December 25, compared with 290 on December 16. The city says preliminary data shows that the orders seemed to have slowed infections.1
Can you name that fallacy? If you think you can, click on the following link to see if you're correct:
This fallacy is one reason why these lockdowns keep happening. All politicians have to do is order these or other restrictions, then wait until the number of cases declines. Eventually, cases will decline, even if the measures taken have nothing to do with it, so all the patient politician has to do is wait until that happens and take credit for it.
While it's plausible that lockdowns may contribute to the slowing of the spread of the virus, it's also plausible that they have other negative effects. For instance, nearly three times as many people died in San Francisco last year from drug overdoses as are attributed to COVID-192. Moreover, there was an increase of 258 overdose deaths from the previous year, which is greater than the 241 COVID-19 deaths. How many, if any, of these deaths were at least partially due to the social isolation and economic hardships of the lockdowns? We don't know, but it's just as plausible that some of them were as that some lives were saved by the lockdown. Also, there's just as much anecdotal evidence that lockdowns contribute to drug overdose deaths as there is that they slow the spread of COVID-193. Were more lives saved or lost due to the lockdown? We don't know, but if you're going to live by post hoc then you may also die by it.
San Francisco is going to start easing its lockdown this Thursday4.
---
Notes:
---

Misquoting Martin Luther King, Jr.
Martin Luther King, Jr. is a quote magnet, one of those famously wise and well-regarded men that we love to quote and misquote. To celebrate his holiday, let's look at what he didn't say and what he did.
"The arc of the moral universe is long, but it bends toward justice."

This is a misattribution which illustrates Ralph Keyes' axiom "famous words need famous mouths"1. The original author of this thought was Theodore Parker, a now obscure American abolitionist, who wrote in a sermon:

I do not pretend to understand the moral universe, the arc is a long one, my eye reaches but little ways. … But from what I see I am sure that it bends towards justice.2

Who today knows who Parker was? In its progress from Parker's sermon to King, it was edited and made more pithy and memorable than Parker's original words3. King used the improved quote in an article, properly including it within quotation marks though not attributing it to Parker, and subsequently quoted it in speeches. As a result, Parker's words, in their improved form, have since been frequently attributed to King, including by a former President of the United States4.

"I was a drum major for justice, peace and righteousness."

A decade ago, a stone memorial to King was erected in Washington, D.C. that included the above paraphrase of a King sermon―see the photograph, above:

…[I]f you want to say that I was a drum major, say that I was a drum major for justice. Say that I was a drum major for peace. I was a drum major for righteousness.5

The paraphrase distorts King's meaning by changing the conditional form of the first sentence to a straightforward assertion, and making what others should say about him after his death into King saying it about himself while still alive. In the end, the lapidary misquote had to be scraped off the statue6.

"I mourn the loss of thousands of precious lives, but I will not rejoice in the death of one, not even an enemy."

Instead of King, the quoted statement was made by Jessica Dovey in response to Osama bin Laden's death, and was followed by a genuine quote of King. Subsequently, Dovey's words were merged with King's and a misattribution was born7. The quote sounds like something King might have said, but was a little too appropriate to the occasion of the killing of bin Laden to be genuine. It illustrates another of Keyes' principles of misquotation, namely, that "famous dead people make excellent commentators on current events"8.

"Even if I knew that tomorrow the world would go to pieces, I would still plant my apple tree."

This is an interesting misattribution. The actual author appears to be unknown9, but it was first misattributed to Martin Luther, then someone tacked on "King". Why either Luther or King would be planting apple trees, I don't know: a better candidate would have been Johnny Appleseed.

"A riot is the language of the unheard."

This one is a contextomy, that is, a quote taken out of context. King did says these words, but in the context of condemning rioting:

Let me say, as Iíve always said, and I will always continue to say, that riots are socially destructive and self-defeating. … So I will continue to condemn riots and continue to say to my brothers and sisters that this is not the way. … But at the same time, it is as necessary for me to be as vigorous in condemning the conditions which cause persons to feel that they must engage in riotous activities, as it is for me to condemn riots. … And in the final analysis, a riot is the language of the unheard.10

Stripped from its context in a condemnation of rioting, the quote can be made to sound like an excuse for "the unheard" to use their "language" of rioting, but King was trying to explain rioting rather than excuse it.
---
Notes:
Ralph Keyes, "Nice Guys Finish Seventh": False Phrases, Spurious Sayings, and Familiar Misquotations (1993), pp. 20-21.
Garson O'Toole, Hemingway Didn't Say That: The Truth Behind Familiar Quotations (2017), pp. 33-36.
For the full story, see: Garson O'Toole, "The Arc of the Moral Universe Is Long, But It Bends Toward Justice", The Quote Investigator, 11/15/2012.
Namely, Barack Obama. See: O'Toole, p. 33.
Martin Luther King, Jr., "The Drum Major Instinct", The Martin Luther King, Jr. Research and Education Institute, 2/4/1968.
Rachel Martin, "Quote Corrected On MLK Memorial", National Public Radio, 8/18/2013.
David Mikkelson, "Martin Luther King: 'Do Not Rejoice in the Death of One'", Snopes, 5/4/2011.
Keyes, pp. 18-20.
Scott H. Hendrix, Martin Luther: A Very Short Introduction (2010).
Martin Luther King, Jr., "The Other America Speech Transcript―Martin Luther King Jr.", Rev, 4/14/1967.
---
Charts & Graphs: One of These Things is Not Like the Others
One of these things is not like the others
One of these things just doesn't belong
Can you tell which thing is not like the others
By the time I finish my song?1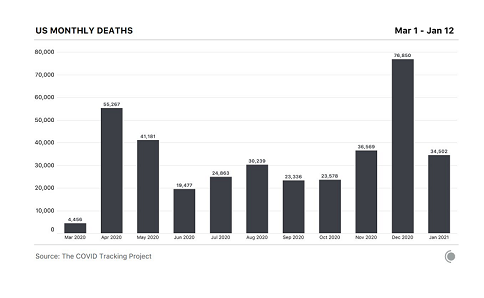 Click chart to enlarge.
Did you guess which thing was not like the others?
Did you guess which thing just doesn't belong?1
If you guessed this month is not like the others, then you're not exactly wrong! The problem with this bar chart2 is that, as you can see from the dates given at the top, the data for it ends at the twelfth of this month. However, the bar for January looks exactly like those for all the other months, despite the fact that the data for it is only partial. To a casual glance, the chart seems to show a large drop-off in deaths from December to January, but this is because of the lack of complete data for this month. Obviously, with the month only half over, we don't know whether there will be a decline in deaths, though I suspect there will be, but it won't be nearly as large as what the chart seems to show.
For a chart such as this not to risk misleading casual viewers, the bar for the month with incomplete data needs to be visually different in some way. One solution is to leave months off the chart until complete data is available; another would be to make a bar based on partial data thinner, or a different color, or include some other warning within the chart that the data for the month is incomplete.3
---
Notes:
I don't know who wrote this song, but it was the twelfth best song from the children's television program Sesame Street, according to Billboard magazine; see: Aly Semigran, "12 Best Songs in 'Sesame Street' History", Billboard, 9/29/2016.
"Only 12 days into January, states have reported more COVID-19 deaths than in any month between June and October of 2020.", Nitwitter, 1/12/2021. Thankfully, this "tweet" of the chart is not misleading since the text that accompanies it emphasizes that January is based on partial data. However, there would be a problem if anyone should reproduce the chart without that accompanying text. In addition, a partially identical chart appeared in the weekly update for the 23rd of last month; see: Nicki Camberg, Artis Curiskis, Alice Goldfarb, Erin Kissane, Jessica Malaty Rivera, Kara Oehler, Sara Simon & Peter Walker, "In the Deadliest Month Yet, the Pandemic Is Regional Again: This Week in COVID-19 Data, Dec 23", Covid Tracking Project, 12/23/2020. This version of the chart has the same problem as the more recent one, except that it is the data for December that is incomplete.
I saw the chart here: Kaiser Fung, "Handling partial data on graphics", Junk Charts, 1/14/2021.
---
How to Fact Check Quotes, Part 31:
Rules of Thumb
A rule of thumb is one that has exceptions, but is simple and will work often enough to be useful. Here are some rules of thumb for quote-checking that I've developed out of my own experience checking quotes. These rules apply primarily to checking quotes of the "Familiar Quotations" type that I discussed in the previous entry2:
---
Notes: