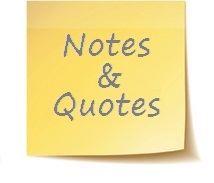 Previous Month | RSS/XML | Current | Next Month
Coining a Misquote & Drunk Journalism
In the misquoting department:

Alison Flood, "War of the words: HG Wells coin also features false quote", The Grauniad, 1/8/20211.

The Royal Mint of England is producing a coin to commemorate the 75th anniversary this year of H. G. Wells' death:

…[W]hat is the origin of the quote chosen by the Royal Mint and attributed to him on the new Wells £2 coin? …[T]he Wells expert Prof Simon James spotted the quote chosen for the edge of the coin: "Good books are warehouses of ideas." James and his fellow academic Adam Roberts, a vice-president of the Wells Society, could source no such quote in Wells's writing―although it is credited to him on various inspirational quote websites.

Beware of such websites!2

"Wells is one of those authors who is often given as the author of misattributed or invented quotations on the internet―there's a notorious one…for which neither I nor any other Wells scholar has been able to identify a source," said James. "Surely the Royal Mint hasn't just plucked a quotation off the net without checking the source…3has it?"

Don't trust, verify!2

Author Eleanor Fitzsimons solved the mystery. She tried searching Wells's writing for a quote with "warehouses" in it, and found an approximation in his obscure work Select Conversations With an Uncle (Now Extinct) and Two Other Reminiscences. That quote, however, is not what appears on the coin: it reads, "Good books are the warehouses of ideals."

That was good quote-sleuthing. The true quote is different from that on the coin by only one letter―and the word "the"―but one letter can make a world of difference. However, that's not the only difference between the two "quotes":

"The correct quotation is not Wells speaking in his own voice, but in the voice of a character whose opinion is definitely not always to be trusted. English academics exhort our students to check the original source when they can―what a shame the Royal Mint didn't think to do so before producing all these coins with a letter missing," said James….

A shame, indeed. I'm reminded of the Martin Luther King, Jr. memorial misquote that I mentioned earlier this month4. If you're going to carve a quote into stone or engrave it in metal, it would be a good idea to first be sure that it's correct.

In the drunk journalism department:

Jack Shafer, "How About a Little Sobriety, Please?", Politico, 1/21/2021.

CNN glowed almost as brightly about the [inauguration] as a state media would have. It accentuated all of Biden's leading attributes…. Biden's perfectly fine if pedestrian speech earned instant accolades from Wolf Blitzer, who jibbered that Biden had put "his soul into his first address."

Well, at least he didn't put Neil Kinnock's soul into it5.

MSNBC worked from the same script, going gaga for not just Lady Gaga but the whole schmear. At day's end, Rachel Maddow confessed to having worked her way through an entire box of Kleenex during the festivities and Joy Reid gushed like a partisan about the event. "They gave us fashion. They gave us celebrity. They gave us hope," Reid said of the "incredible" inauguration. Incredible it was not. In fact, it was very low-fi without the Mall-filling, cheering crowds, the parades and the balls that ordinarily pad the swearing-in.

…The New York Times swallowed whole the recent myth-making that has transformed Biden from a shifty politician into a statesman, conveying his call for civility and unity and portraying him as a disciplined, restrained character when anybody who has studied his career knows he's anything but.

Throat-clearing omitted.

But this doesn't excuse the rhetorical overkill that the press flung so profligately. CNN's Jake Tapper, a normally sober commentator and reporter, was so moved by the Biden-Harris visit to the Tomb of the Unknowns after the investiture that he helped himself to a little play-by-play from inside the new president's mind. "I cannot imagine that President Biden was not thinking of his favorite soldier, Beau Biden, his son, who died of cancer, who was a major in the Army Reserve, and for whom he mourns greatly," Tapper intoned. Please, please, can we have a brief moratorium on future Beau Biden references unless absolutely necessary?

I agree; given the ongoing moratorium on references to Hunter, let's extend it to all of Biden's sons6.

…[B]y going overboard for Biden, the press was guilty of 1) hyping Joe; 2) inflating expectations to a volume he can't possibly fulfill and 3) giving viewers and readers a reason to suspect if not distrust the gleaming Biden coverage. In an era when large portions of Americans think mainstream media is a tool of the left, a tad less bootlicking could help build trust among media skeptics.

True, the squeals of delight from the TV booths that greeted Biden were not unique to his inauguration or his political persuasion. … But such demonstrations arrive most reliably when Democrats take the White House, and never did a Republican get the sort of treatment Barack Obama did in his 2008 inaugural, when MSNBC's Chris Matthews famously admitted to having "felt this thrill going up my leg" when Obama spoke.

Today, those at MSNBC are probably feeling thrills going up their legs thinking about getting cushy, well-paying jobs in the Biden administration7.

Short of dosing commentators, anchors and reporters with Seconal to prevent their central nervous systems from over-reacting to Inauguration Day proceedings, maybe we could embed a house cynic on each network and newspaper to police or at least tamp down the irrational exuberance that rains down on most inaugurations. Think of the house cynic as the one trusted to stay off the sauce all night long so that when the party ends, a sober somebody is still standing to drive all the drunks home safely.

Nice metaphor, but not a serious suggestion. Such a house cynic would soon become, like Diogenes8, a homeless cynic. Shafer seems to be primarily worried about appearance as opposed to the underlying reality, because a token sober "cynic" would at best help such news media to give the appearance of not being in the drunk tank for Biden. To get the reality, you'd need more than one; in fact, you'd need a whole newsroom of sober reporters. In lieu of that, it's better to have the lack of sobriety of the news media apparent to everyone, rather than being concealed by an enabler in the newsroom.
---
Notes:
See: How to Fact Check Quotes, Part 3: Rules of Thumb, 1/2/2021.
See: Misquoting Martin Luther King, Jr., 1/18/2021.
Jack Shafer, "What Kind of Plagiarist Is Joe Biden?", Slate, 8/25/2008.
Boston Herald editorial staff, "Mainstream media's silence on Biden story scandalous", Boston Herald, 10/16/2020.
Maxwell Tani, "MSNBC Cuts Loose Two More Contributors With Biden Transition Ties", Daily Beast, 11/10/2020.
Julie Piering, "Diogenes of Sinope (c. 404ó323 B.C.E.)", Internet Encyclopedia of Philosophy, accessed: 1/24/2021. IEP needs better editing; see: Get the "Lead" Out, 2/5/2007.
---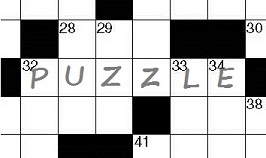 Five False Witnesses
Victor Timm was shot in broad daylight in front of five eyewitnesses. This might seem like an easy case for the police, but witnesses are notoriously unreliable. Following are the five descriptions of the assailant taken from the transcripts of the witness interrogations:
"The shooter was tall―over six feet, I'd say―with rather long blond hair…. He was wearing white sport shoes."
"The killer was bald; totally bald. … He was shorter than me, and I'm only five feet tall. … His shoes? Just regular street shoes; brown or black leather."
"The gunman was about average height…over five feet tall but under six. He was wearing dark leather man's shoes. His hair was definitely blond…a little long for a man."
"The first thing I noticed is that the man with the gun was wearing sandals. … He was definitely taller than me, and I'm six feet. He had dark hair…just a standard haircut; not too short, not too long."
"He was short―less than five feet tall―so I was looking down on his hair, which was dark brown or black. I saw white sneakers when he ran away."
Five eyewitnesses who didn't agree on a single thing! Thankfully, Vic Timm survived the assault and was able to give a detailed description of his attacker that allowed the police to make an immediate arrest. Under police interrogation, the suspect confessed. As it turned out, each of the eyewitness descriptions was correct in exactly one detail.
How did Timm describe his attacker?
There are three different characteristics of the attacker described by the witnesses: hair, height, and shoes. Each characteristic has three possible values; for example, height: under five feet tall, between five and six feet, and over six feet. So, there are a total of 27 possible descriptions of the suspect.
Here is Vic Timm's own description of his attacker: "He was shorter than me: under five feet. He had longish blond hair, and he was wearing sandals."
---
Acknowledgment: The characters in this puzzle are fictitious, and any resemblance to actual persons, living or dead, is coincidental. Victor Timm was unharmed. The puzzle is based on problem 2.17 from Bonnie Averbach & Orin Chein's Problem Solving Through Recreational Mathematics (2000).
---
Name that Fallacy!
Earlier this month, a San Francisco television station reported:
The Embarcadero was virtually empty Saturday night amidst a light drizzle. It'll likely stay relatively quiet, since San Francisco has extended its stay-at-home and 10-day travel quarantine orders indefinitely. UCSF infectious disease expert and medical director of the HIV Clinic at Zuckerberg San Francisco General Hospital Director Dr. Monica Gandhi says the city's decision is not data-driven.

"We never reached those hospitalizations or ICU capacity concerns that the state had set as metrics for this degree of shutdown," she said. "And then to continue it indefinitely, as kind of our New Year's present to San Francisco, didn't make sense to me."

San Francisco is in better shape than most of the Bay Area and the state of California. Currently about 30% of ICU beds are still available. The latest 7-day average of new cases daily is 206 as of December 25, compared with 290 on December 16. The city says preliminary data shows that the orders seemed to have slowed infections.1
Can you name that fallacy? If you think you can, click on the following link to see if you're correct:
This fallacy is one reason why these lockdowns keep happening. All politicians have to do is order these or other restrictions, then wait until the number of cases declines. Eventually, cases will decline, even if the measures taken have nothing to do with it, so all the patient politician has to do is wait until that happens and take credit for it.
While it's plausible that lockdowns may contribute to the slowing of the spread of the virus, it's also plausible that they have other negative effects. For instance, nearly three times as many people died in San Francisco last year from drug overdoses as are attributed to COVID-192. Moreover, there was an increase of 258 overdose deaths from the previous year, which is greater than the 241 COVID-19 deaths. How many, if any, of these deaths were at least partially due to the social isolation and economic hardships of the lockdowns? We don't know, but it's just as plausible that some of them were as that some lives were saved by the lockdown. Also, there's just as much anecdotal evidence that lockdowns contribute to drug overdose deaths as there is that they slow the spread of COVID-193. Were more lives saved or lost due to the lockdown? We don't know, but if you're going to live by post hoc then you may also die by it.
San Francisco is going to start easing its lockdown this Thursday4.
---
Notes:
---

Misquoting Martin Luther King, Jr.
Martin Luther King, Jr. is a quote magnet, one of those famously wise and well-regarded men that we love to quote and misquote. To celebrate his holiday, let's look at what he didn't say and what he did.
"The arc of the moral universe is long, but it bends toward justice."

This is a misattribution which illustrates Ralph Keyes' axiom "famous words need famous mouths"1. The original author of this thought was Theodore Parker, a now obscure American abolitionist, who wrote in a sermon:

I do not pretend to understand the moral universe, the arc is a long one, my eye reaches but little ways. … But from what I see I am sure that it bends towards justice.2

Who today knows who Parker was? In its progress from Parker's sermon to King, it was edited and made more pithy and memorable than Parker's original words3. King used the improved quote in an article, properly including it within quotation marks though not attributing it to Parker, and subsequently quoted it in speeches. As a result, Parker's words, in their improved form, have since been frequently attributed to King, including by a former President of the United States4.

"I was a drum major for justice, peace and righteousness."

A decade ago, a stone memorial to King was erected in Washington, D.C. that included the above paraphrase of a King sermon―see the photograph, above:

…[I]f you want to say that I was a drum major, say that I was a drum major for justice. Say that I was a drum major for peace. I was a drum major for righteousness.5

The paraphrase distorts King's meaning by changing the conditional form of the first sentence to a straightforward assertion, and making what others should say about him after his death into King saying it about himself while still alive. In the end, the lapidary misquote had to be scraped off the statue6.

"I mourn the loss of thousands of precious lives, but I will not rejoice in the death of one, not even an enemy."

Instead of King, the quoted statement was made by Jessica Dovey in response to Osama bin Laden's death, and was followed by a genuine quote of King. Subsequently, Dovey's words were merged with King's and a misattribution was born7. The quote sounds like something King might have said, but was a little too appropriate to the occasion of the killing of bin Laden to be genuine. It illustrates another of Keyes' principles of misquotation, namely, that "famous dead people make excellent commentators on current events"8.

"Even if I knew that tomorrow the world would go to pieces, I would still plant my apple tree."

This is an interesting misattribution. The actual author appears to be unknown9, but it was first misattributed to Martin Luther, then someone tacked on "King". Why either Luther or King would be planting apple trees, I don't know: a better candidate would have been Johnny Appleseed.

"A riot is the language of the unheard."

This one is a contextomy, that is, a quote taken out of context. King did says these words, but in the context of condemning rioting:

Let me say, as Iíve always said, and I will always continue to say, that riots are socially destructive and self-defeating. … So I will continue to condemn riots and continue to say to my brothers and sisters that this is not the way. … But at the same time, it is as necessary for me to be as vigorous in condemning the conditions which cause persons to feel that they must engage in riotous activities, as it is for me to condemn riots. … And in the final analysis, a riot is the language of the unheard.10

Stripped from its context in a condemnation of rioting, the quote can be made to sound like an excuse for "the unheard" to use their "language" of rioting, but King was trying to explain rioting rather than excuse it.
---
Notes:
Ralph Keyes, "Nice Guys Finish Seventh": False Phrases, Spurious Sayings, and Familiar Misquotations (1993), pp. 20-21.
Garson O'Toole, Hemingway Didn't Say That: The Truth Behind Familiar Quotations (2017), pp. 33-36.
For the full story, see: Garson O'Toole, "The Arc of the Moral Universe Is Long, But It Bends Toward Justice", The Quote Investigator, 11/15/2012.
Namely, Barack Obama. See: O'Toole, p. 33.
Martin Luther King, Jr., "The Drum Major Instinct", The Martin Luther King, Jr. Research and Education Institute, 2/4/1968.
Rachel Martin, "Quote Corrected On MLK Memorial", National Public Radio, 8/18/2013.
David Mikkelson, "Martin Luther King: 'Do Not Rejoice in the Death of One'", Snopes, 5/4/2011.
Keyes, pp. 18-20.
Scott H. Hendrix, Martin Luther: A Very Short Introduction (2010).
Martin Luther King, Jr., "The Other America Speech Transcript―Martin Luther King Jr.", Rev, 4/14/1967.
---
Charts & Graphs: One of These Things is Not Like the Others
One of these things is not like the others
One of these things just doesn't belong
Can you tell which thing is not like the others
By the time I finish my song?1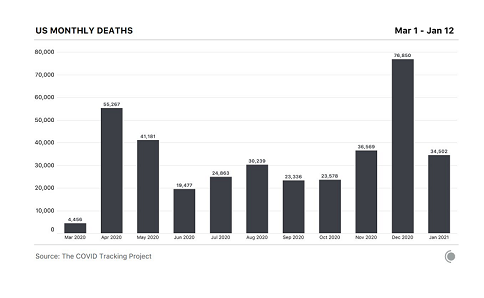 Click chart to enlarge.
Did you guess which thing was not like the others?
Did you guess which thing just doesn't belong?1
If you guessed this month is not like the others, then you're not exactly wrong! The problem with this bar chart2 is that, as you can see from the dates given at the top, the data for it ends at the twelfth of this month. However, the bar for January looks exactly like those for all the other months, despite the fact that the data for it is only partial. To a casual glance, the chart seems to show a large drop-off in deaths from December to January, but this is because of the lack of complete data for this month. Obviously, with the month only half over, we don't know whether there will be a decline in deaths, though I suspect there will be, but it won't be nearly as large as what the chart seems to show.
For a chart such as this not to risk misleading casual viewers, the bar for the month with incomplete data needs to be visually different in some way. One solution is to leave months off the chart until complete data is available; another would be to make a bar based on partial data thinner, or a different color, or include some other warning within the chart that the data for the month is incomplete.3
---
Notes:
I don't know who wrote this song, but it was the twelfth best song from the children's television program Sesame Street, according to Billboard magazine; see: Aly Semigran, "12 Best Songs in 'Sesame Street' History", Billboard, 9/29/2016.
"Only 12 days into January, states have reported more COVID-19 deaths than in any month between June and October of 2020.", Nitwitter, 1/12/2021. Thankfully, this "tweet" of the chart is not misleading since the text that accompanies it emphasizes that January is based on partial data. However, there would be a problem if anyone should reproduce the chart without that accompanying text. In addition, a partially identical chart appeared in the weekly update for the 23rd of last month; see: Nicki Camberg, Artis Curiskis, Alice Goldfarb, Erin Kissane, Jessica Malaty Rivera, Kara Oehler, Sara Simon & Peter Walker, "In the Deadliest Month Yet, the Pandemic Is Regional Again: This Week in COVID-19 Data, Dec 23", Covid Tracking Project, 12/23/2020. This version of the chart has the same problem as the more recent one, except that it is the data for December that is incomplete.
I saw the chart here: Kaiser Fung, "Handling partial data on graphics", Junk Charts, 1/14/2021.
---
How to Fact Check Quotes, Part 31:
Rules of Thumb
A rule of thumb is one that has exceptions, but is simple and will work often enough to be useful. Here are some rules of thumb for quote-checking that I've developed out of my own experience checking quotes. These rules apply primarily to checking quotes of the "Familiar Quotations" type that I discussed in the previous entry2:
---
Notes:
Previous Month | RSS/XML | Current | Next Month | Top of Page